DANCE PARTIES + Special Dance Workshops
Jasmine's 2019 Performance Schedule
February 2 - Annual "Black Tie" Gala for Tango Con*Fusión's 2019 European Tour. Performances, Live Music with Trio Garufa, Milonga, Gourmet Appetizers, Wine, Silent Auction & More! 7-11PM at Alma del Tango in San Anselmo. Get Your Early Bird Tickets!

May 2 - at Verdi Club in San Francisco at Milonga Malaveje with Tango Con*Fusión

May 25 - at Fort Mason in San Francisco at San Francisco International Arts Festival with Redwood Tango Ensemble and Tango Con*Fusión

June 15 - at Burning Tango Festival in Mount Shasta with Tango Con*Fusión

July 10-15 - 2019 European Tour with Tango Con*Fusión— Berlin/Valencia
Jasmine's 2018 Performance Schedule
July 10-24 - 2018 European Tour with Tango Con*Fusión – Berlin/Barcelona/Sitges

June 23 - at Alma del Tango with Tango Con*Fusión at La Milonga de San Anselmo

June 7 - at Verdi Club in SF at Milonga Malevaje with Tango Con*Fusión

April 28 - at Pacifica Performance with Redwood Tango Ensemble with Tango Con*Fusión

February 25 - at Alma del Tango with Tango Con*Fusión in San Anselmo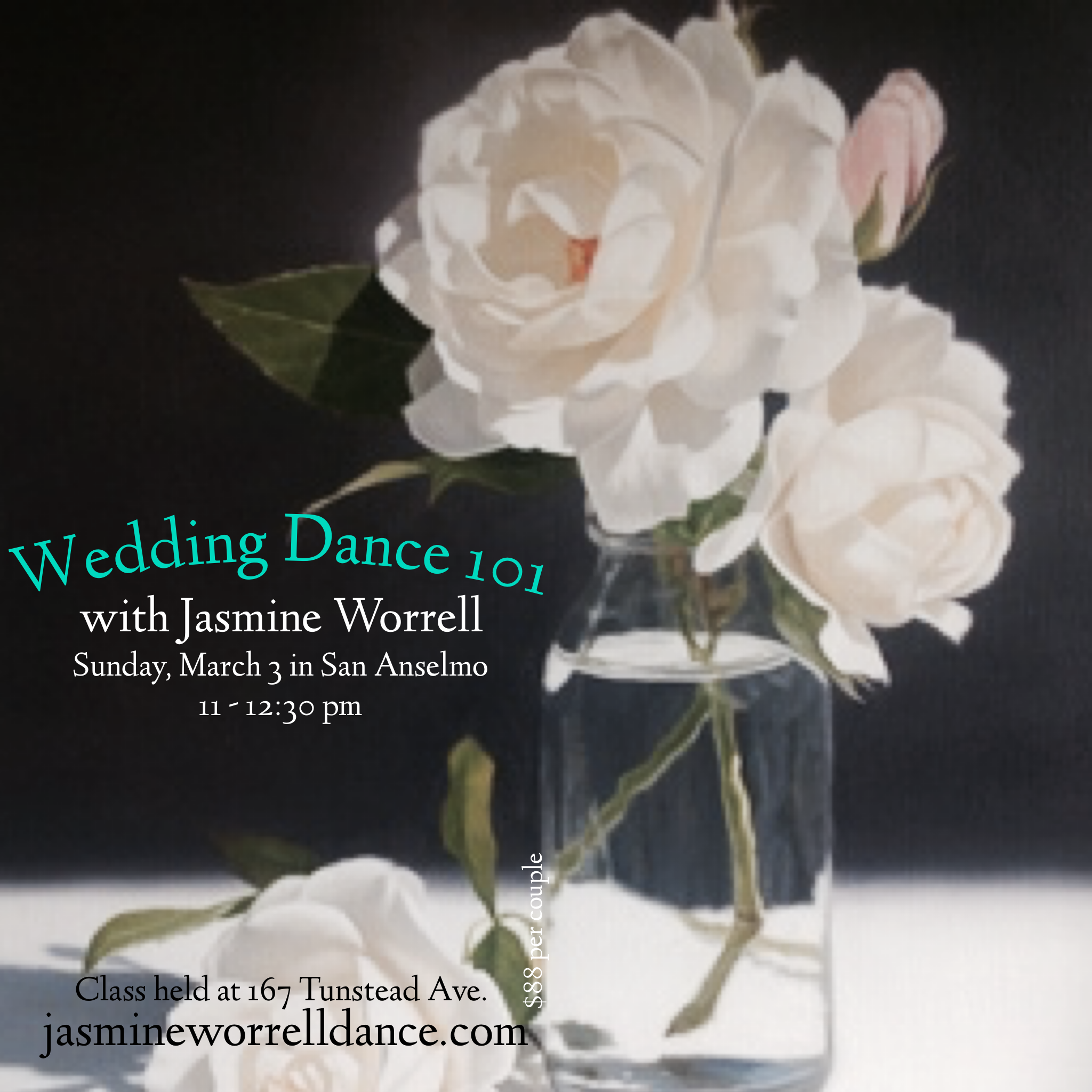 Learn how to dance with grace and confidence
Specializing in 2 left feet! You don't need any dance experience to smash a first dance. Join Jasmine in a fun and open dance class just for those looking to rock their wedding dance with simple, graceful dance moves. Perfect for anyone who want a traditional and romantic or more contemporary style wedding dance.
$88 per couple at the door or Early Bird Discount here.
Dance Party Goes Electric With GG Amos!
Let's come together and enjoy a first 2019 Marin swing dance party + free lesson in San Anselmo. Please join us on the dance floor. Open to all! XO

• Free Swing Dance Lesson: 3:30-4PM.
• Live Band & Swing Dancing: 4 PM and runs until 7PM
• BYOB

GG Amos plays our party! This band plays with excitable rhythm! Pure pro musicians with strong driving power that makes you want to move! Led by GiGi Amos, who fingers that hollow body Les Paul with an agile fieriness, as she belts out the lyrics with soul and energy. The beat and songs are dancey, the floor all ours, and we were surprised and thrilled.
You'll be blissed!
Pay at the door for live band + dancing from 4-7PM
167 Tunstead Ave. in downtown San Anselmo
Email with any questions here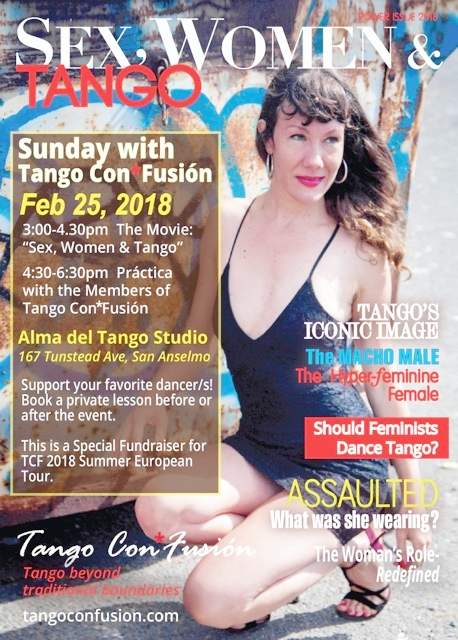 Feb 25 is our FUNDRaiser Kickoff
Please Help send Tango Con*Fusión to Europe July 2018
What: Movie Showing of the Theater Show "Sex, Women & Tango"
When: Sunday, Feb 25th, 2018 3pm-6:30pm (Movie & Discussion 3-4:30/Práctica 4:30-6:30)
Where: Alma del Tango Studio, 167 Tunstead Ave. in San Anselmo
Why: Fundraising event for Tango Con*Fusíon's European Tour 2018
$25-$40 sliding scale donation: Movie & Práctica with the members of Tango Con*Fusíon + sneak peek preview of newest choreography.
Now scheduling 1 hour private classes ($100) with any member before and after the event – support your favorite dancer/s – help them travel on their first European Tour.
THE LINDY HOP BASICS // 2-PART WORKSHOP // FEBRUARY 4 & 11 // FROM 10:30AM TO 12NOON.
LEARN OR REFINE THE BASICS
LEARN THE FUNDAMENTALS OF LINDY HOP. THIS 2-PART WORKSHOP IS FOR ANYONE WHO WANTS TO LEARN THE BASICS OF LINDY HOP. IN THIS WORKSHOP, YOU WILL LEARN THE SWING OUT FROM OPEN, SWING OUT FROM CLOSED, LINDY CIRCLE, SUGAR PUSH, FOLLOWERS INSIDE TURN, FOLLOWERS OUTSIDE TURN, FOLLOWERS FREE SPIN, AND MORE! NO DANCE EXPERIENCE NEEDED, AND ALL AGES ARE WELCOME. THIS IS THE CLASS NEEDED TO JOIN MY THURSDAY, 6PM, MIXED LEVELS LINDY HOP GROUP CLASS! ONLY OFFERED 3 TIMES A YEAR. CLASSES ARE HELD IN BEAUTIFUL DOWNTOWN SAN ANSELMO AT 167 TUNSTEAD AVE. MUST SIGN UP IN ADVANCE BY EMAILING JASMINE HERE.
2-DAY SWING WORKSHOP

FEBRUARY 4 & 11
BALBOA workshop 2 •

12:30 - 2 PM
WHAT IS BALBOA?
WATCH IT DANCED

Basic Balboa experience needed. Must know the Basic Shuffle (up hold & down hold) + Come Around.
Sign-up by emailing me! $68 for 2-part/2-day series (3 hrs of instruction) per person. This 2-part workshop is progressive, and you will want to attend both classes. Email me if you have questions or want to reserve a spot in the special class.

2-day workshop will be held at the beautiful dance studio: 167 Tunstead Ave. in lovely San Anselmo.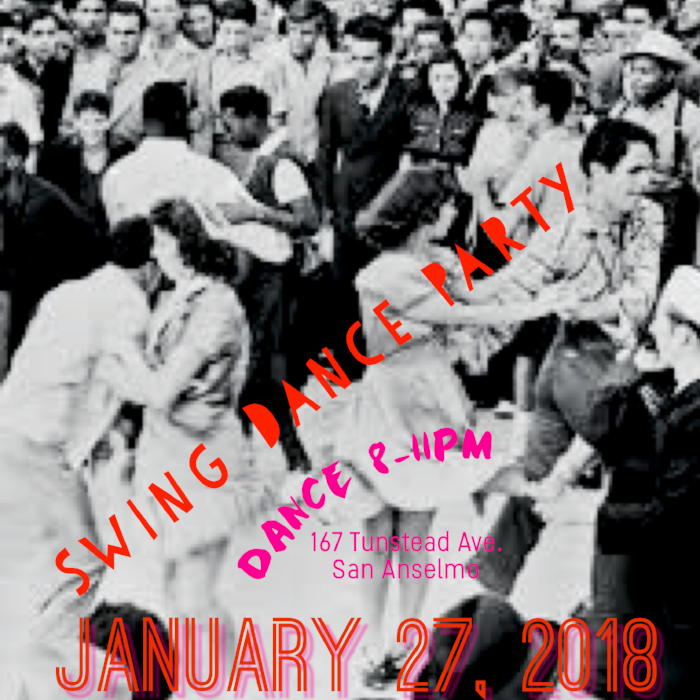 FIRST MARIN SWING DANCE PARTY OF 2018
// January 27 from
8 pm-11PM // DON'T MISS IT.
*Free Jitterbug Crash course with Jasmine from
7:30-8PM
167 Tunstead Ave., downtown San Anselmo in Marin County
Free intro FOXTROT lesson at the San Anselmo Public Library January 29, 2018
Enjoy a FREE foxtrot dance workshop with Jasmine in the historic and stunning San Anselmo Library!
January 29th from 4-5PM.
Sign up: 415-258-4656.
6.5 hours of kick butt Argentine Tango instruction with the women of Tango Con*Fusión. Open for leaders to want to learn to follow and for followers who want to learn lead Tango. The material will cover a wide range of elements of Argentine Tango. Both the leaders and followers parts will be taught and everyone will dance both roles. These elements will then be used for the lead/follow exchanges as the day progresses, including some of the signature exchanges for which Tango Con*Fusión.
Register for Tango Boot Camp 2018 now: TradingPlacesJan21.bpt.me
Location: Trilliant Studios, 130 Linden Street, in Oakland
free at the noe valley public library |
wedding dance workshop for all
on december 3, enjoy a free dance workshop where everyone is invited to join in. simply show up, no partner, experience or registration is needed. you will receive a taster one hour lesson on the basics of foxtrot! enjoy learning a classic dance in a stunning, historic building in beautiful noe valley san francisco. join me! reach out with questions, should you have any. 12/3 from 1-2PM.
beginninG
Swing Workshop for ALl AGES! FREE 4 ALL.
Enjoy a FREE swing dance workshop in the historic and stunning San Anselmo Library.
November 29th from 4-5PM.
Sign up: 415-258-4656.
Enjoy a FREE dance workshop with me at the beautiful San Francisco Noe Valley Library!
November 15th from 5:30-6:30PM.
Sign up: 415-355-5707.
CRASH COURSE CHARLESTON @ 6PM // CHARLESTON PLUS+ 7PM
NOVEMBER 9, 2017
167 Tunstead Ave. in San Anselmo
Simply show-up, no partner necessary
Jumpstart Your Charleston! 6-7PM
The Crash Course Charleston is an hour-long fundamentals workshop, perfect for absolute beginners and runs 6-7PM. In this workshop we will be learning 1930s partner Charleston. You don't need a partner or any experience!
Charleston Plus+ 7-9PM
Students with some previous Charleston experience join this workshop and learn fun kick-through variations, circles, turns and hand-to-hand figures!
Reach to Jasmine Worrell with any questions regarding the workshops.
Location: 167 Tunstead Ave. in beautiful downtown San Anselmo
Cost: Jumpstart 6-7PM is $20; Charleston Plus+ from 7-9PM is $40.
NOT SURE WHICH LEVEL YOU ARE IN? EMAIL ME!
Final Swing Dance Party of 2017
November 4, 2017
7:30 pm - 11PM
167 Tunstead Ave. San Anselmo in Marin County
September 28 from 7-9 PM
167 Tunstead Ave. in San Anselmo
Simply show-up, no partner necessary FOR SHIM SHAM!
SHIM SHAM: The Shim Sham is the most widely known of all swing line dances worldwide. Learn the classic solo steps from the Lindy Hop era: The Shim Sham, Break, Tacky Annie, Boogie Steps, the Shorty George! This will be a solo jazz dance class with Jasmine. No partner is required. $40 for 2 hour workshop - cash only
Join Jasmine ON SEPTEMBER 16 for a swing dance party+ TRAVELING PORTRAIT STUDIO BY MEMENTO MODA!
FREE INTRO SWING LESSON AT 7:30PM!

Swing dance the night away on Sept 16, 2017 while DJ Goodie Two-Shoes (AKA Jasmine Worrell) plays swing dance tunes from 8-11PM! Enjoy a beautiful dance space, great music, friendly and open dancers, beverages and light snacks. Come out and boogie with a fabulous community of dancers! All ages and abilities welcome.
Contact Jasmine with any questions.

We are thrilled to host our third swing dance party at Alma del Tango Studio. Let's make it a happening night! Bring a beverage or snack to share if you wish.
Location: 167 Tunstead Ave. San Anselmo, CA
Time: 7:30-11pm